Every good golf player knows that the number one way to lower your golf scores is to practice putting. ARTURF Portable Putting Greens are a great assistant to improve your putting skills. Our portable putting greens have been carefully designed so they can be placed in any room in your home during the winter months and then out in your yard during the summer. ARTURF Ultimate Portable Golf Putting Green is quite suitable for both outdoor and indoor use. Portable and easy to install; just unroll and play.
Portable Putting Greens Designed with All the Functionality
The pre-packaged portable putting greens are designed to give you all the functionality of a traditional putting green in the comfort and warmth of your own home or office. You will find our portable indoor/outdoor putting greens are both beautiful and incredibly realistic.
Our Portable Putting Greens are designed by golfers for golfers with the intent of creating the best available putting practice environment without wasting square footage that you will have to pay for and add little practical value.
Now you can take the golf course wherever you travel! More realistic and challenging than aiming a ball into a drinking glass on the carpet.
Features:
Size: 1.5m*3.0m/3.5m,  big enough for a tricky putt, but compact to play almost anywhere. Special size can be customized.
Highest functionality and Most realistic synthetic putting green
Materials: Texturized Polyethylene with Monofilament Polyethylene Fringe
Warranty: 8 Year warranty
Best value indoor putting green on the market
Benefits:
Designed to feature a realistic putting texture and simulated rough.
Packed with a woven fabric bag. Very easy to carry.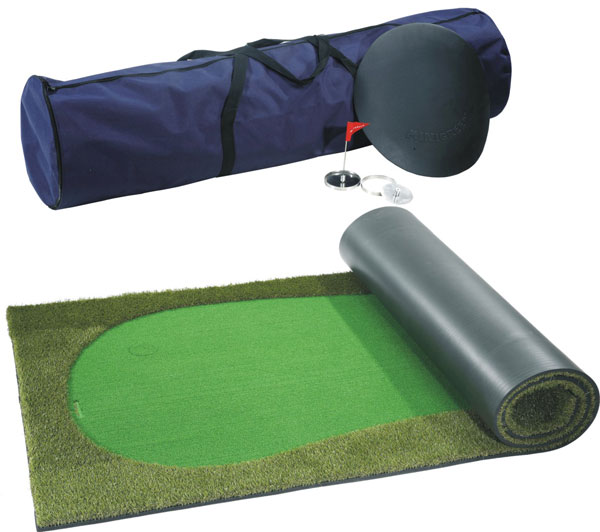 Please note we do not suggest to purchase the Ultimate Portable Green individually for the airfreight will be very high, and probably much higher than the value of the products. We recommend to order together with artificial grass and put Ultimate Portable Green into the same container. 
---
Proven Good Quality
High-quality and natural-looking artificial grass with great UV-resistance. Self-owned yarn extruding plant makes sure the manufacturing process can be controlled from the very beginning with selected finest materials. All products are delivered with warranties.
Competitive Pricing
Arturf believes that our growth is basing on the growth of our valuable customers. Our pricing strategy is always the customers' profit first. By keeping a very low but reasonable margin, we ensure the competitive landed price and enlarge the market together with dealers.
products customizable
Our company has a full line of products for almost all kinds of applications. Besides, we can customize the specifications (mainly pile height, stitch rate, color) to fit your specific market. We can produce artificial turf according to your samples or specifications.