Artificial grass can be used to improve the look of your home garden. Not only will artificial grass look beautiful and clean all year round, but it will also save you plenty of time and money that you would normally spend on maintaining your lawn area. When it comes to choosing artificial grass for your home garden there are a few things that you will need to consider. This blog provides several tips that will help you to choose the perfect type of artificial lawn in no time at all.
Size of the lawn area
The first thing to do is to calculate the size of the area that you want to cover with the artificial grass. Use a tape measure to calculate the exact width and length of the space. Make sure that you write down these measurements so that you can refer to them later on. When you are ordering the grass you should always order a little bit more than you need for spares.
Please note the artificial grass comes in rolls and normally 4m or 2m length (that means the artificial lawn is in 4m or 2m width, the length can be made as request) if you order from artificial grass factory directly. You need to cut the turf to fit your area when you install artificial grass.
Colour of Artificial Grass
Artificial grass is available in a range of colors. The type that you choose should depend on your personal tastes. You can take a look online for images of artificial grass which has already been installed to see what shade will look best in your own garden. You may wish to choose a shade that is similar to the colorings of the local natural grass to make your lawn appear more realistic. For kids playgrounds or schools you may choose to have a bright and unnatural color of the grass in order to make it look more fun.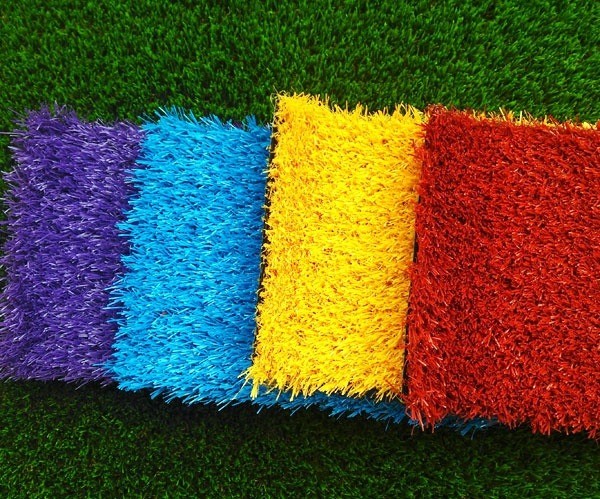 The Thickness of Artificial Grass
Synthetic grass also comes in a range of thicknesses. When it comes to choosing a thickness of grass you should first think about how much football is going to be in the area. If you have kids or pets that love to play in the garden then it is advisable to choose a thicker type of artificial grass as it will be stronger and more hardwearing. For putting greens and areas around swimming pools it is best to choose a short length variety of artificial grass.
You can find a technical data tag fixed on the backing of our artificial grass samples. The item "Pile Height" indicates the artificial grass thickness. Generally speaking, pile height plus the thickness of the backing is artificial grass thickness. The thickness of the backing is 1mm-3mm.
Artificial Lawn Installation
You can choose to have your artificial grass professionally installed if the area is large and with a complex shape. Professional installers will have the skills and knowledge to be able to install it in the quickest amount of time possible. They will also be able to ensure that it looks extremely natural and that it is even.
If you purchase artificial grass from our factory directly, you can also do the installation work by yourself. An installation guide is available to support you to install the artificial lawn step by step. Certainly, if you meet any problem during the installation, do not hesitate to contact us for help.
You need some installation accessories for laying artificial lawns such as joint tape, glue, u-pin. We can supply these materials together.
Environmentally Friendly
Before you purchase any type of artificial lawn you should first check that it is environmentally friendly and that it does not contain any nasty chemicals or toxins, and lead-free.
Arturf artificial grass is proven safe for kids, pets, and players. SGS certificate is available. It is lead-free.