Artificial Grass Cricket Pitch
With the different types of turf we provide, we offer excellent solutions for:
1) Cricket pitch area (and with variations for fast bowling and spin bowling);
2) Bowling run-up and Fielding area.
These highly proven sports surfaces are ideal for practice facilities where cricketers train over many years as they prevent repetitive-stress injuries that are otherwise caused due to hard and unforgiving ground conditions.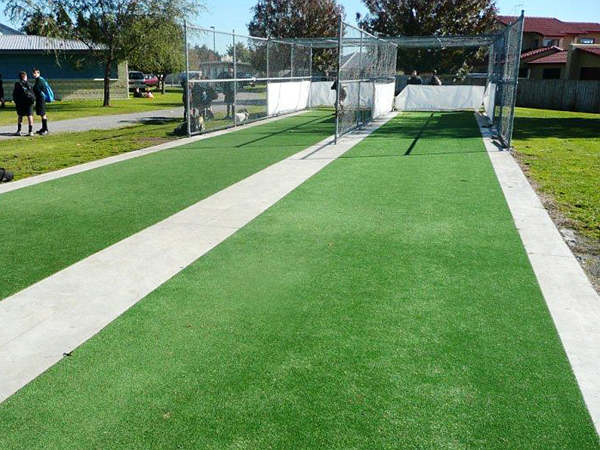 A natural grass cricket pitch has to be very well prepared by groundsmen whose jobs include fertilising, mowing, rolling and levelling the surface. The key action takes place in a specially prepared area of the field, generally in the centre, that is called the pitch. The pitch for cricket has to be a perfectly flat surface. Where natural grass is used it has to be very short grass that tends to be worn away as the game progresses. The "condition" of the pitch has a significant bearing on the match and team tactics are always determined with the state of the pitch, both current and anticipated, as a deciding factor.
An artificial grass cricket pitch is the solution
Artificial turf for cricket is the solution for increasing the hours of play with no compromise of the pitch quality. Synthetic turf pitches can be played on more frequently and for longer. A natural grass pitch begins to deteriorate after about 250 hours play per season, while synthetic turf can be played on 24 hours a day 7 days a week – dependent on good regular maintenance. With ArtTurf sports turf, cricket teams can enjoy a full season of lush grass on a new artificial cricket pitch.
Maintaining a natural grass pitch is labour intensive and requires significant investment of time, effort and capital. While regular maintenance is important to preserve the life of a quality synthetic sports turf such as  ArtTurf, it is a lot easier and more affordable over the long term ArtTurf will also create a customised cleaning and maintenance plan for your needs, train your ground staff in maintenance procedures or implement the maintenance program we develop on a once off or contractual basis.