Most Realistic
Meticulously crafted to mimic natural grass, our artificial turf closely resembles the look, texture, and color for an authentic experience.
Stable Quality
Superior Quality, Enduring Beauty. UV and wear-resistant turf, meticulously crafted. Backed by a solid warranty for exceptional satisfaction.
100% Safe
Kids can play on our artificial grass without worry. We prioritize safety, using high-quality materials and strict standards in selection.
Custom Products
We offer a full line of products and customization options to meet your specific market requirements or produce based on your samples.
Residential & Commercial
Transform your residential or commercial space with our premium artificial lawns. Experience the benefits of lush greenery year-round, tailored to your unique needs.
Our product line also includes specialized options that are pet-friendly, ensuring a harmonious environment for your beloved companions.
Turf for Play Areas
Safe, durable, and vibrant artificial lawns for play areas. Create a child-friendly environment with our wear-resistant and UV-stabilized artificial grass. Transform your play areas today.
For added peace of mind, consider incorporating a shock pad beneath the artificial grass. A shock pad is an ideal solution to enhance safety and resilience on the surface, ensuring a worry-free play experience.
Discover the low-maintenance, evergreen allure of landscape artificial grass. Upgrade your outdoor space effortlessly with this hassle-free landscaping solution. Explore our latest articles and transform your surroundings today!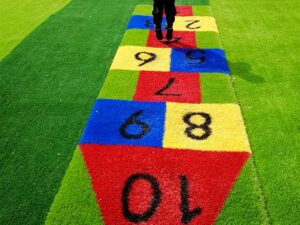 Hopscotch is more than just a game—it's a powerful tool for children's development. By incorporating [...]