Padel courts are appearing in more and more places and the sport is one of the fastest-growing sports in the world. Already very popular in Spain and Latin America, the game is quickly attracting new players around the globe. Padel clubs are opening in the UK, Germany, France, the Middle East, Australia, Canada, and the United States and padel is being used in tennis clubs, tennis academies, sport and leisure centers, hotels, luxury hotels & resorts, golf clubs, condominiums and Leisure Centers to increase their sport offer.
What is padel?
Padel, or paddle, is a sport similar to tennis, of which it maintains the rules and methods of counting points, but which is played on smaller courts, with stiffer rackets and a softer ball than tennis. Being the smallest court, many recreation facilities such as tourist villages and sports centers optimize unused spaces by installing padel courts, in order to attract fans.
Dimensions of padel court
Padel courts essentially follow the same layout as a standard tennis court but are just smaller – they consist of a rectangle 10 meters wide by 20 meters long that have a net across the middle dividing the court into two equal 10m x 10m squares.
Parallel to the back of the court on both sides, and at a distance of 3m from the back, are the service lines. As all lines on a padel court should have a width of 5cm, this leaves a distance of 6.95m from the front of the service lines to the net.
These areas that are between the net and the service lines are split in half by a perpendicular line called the central service line, which divides this area into two equal zones.
On a court that is covered the ceiling should be at least 6 meters above the whole playing surface.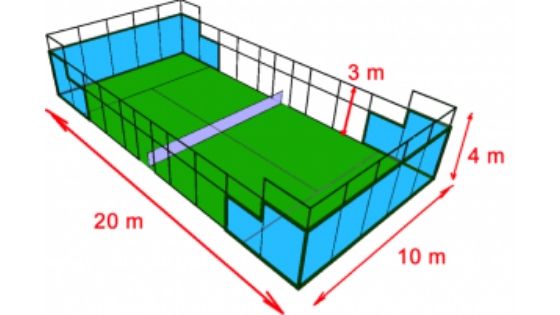 Artificial grass for padel tennis courts
Artificial turf was well accepted for padel tennis courts, both for comfort and performance reasons. Our company keeps developing the surface performance both for professional competition and practice, and our padel tennis turf is very durable and can be used all year round.
We recommend 10mm-12mm fibrillated padel tennis grass. It is very common and is also very popular among players. The sand works significantly better on fibrillated turf and creates after a very short time an optimal playing surface. The products are applicable for facilities dedicated to paddle tennis. They cover the needs and demands of the sport.
Short description of artificial grass padel court installation
Roll out the artificial grass as loose pieces, cut to the size, and then connect with a special tape and glue. Cut in all white-colored line-markings. Fill the artificial grass with dry, sieved round-grain quartz sand.
How do you maintain a padel court?
We recommend basically once every 2 – 3 weeks. Maintenance includes work such as: removing leaves, weeds and snow on the artificial turf, etc. Cold winter weather is no problem for artificial turf. Even with long frost, the artificial turf takes no damage and does not break when entering to the padel court.
Tennis Artificial Grass Products
Tennis Court Related News & Blogs