It is obvious that there are numerous advantages to installing an artificial turf lawn (otherwise known as synthetic grass). If you put down an artificial lawn, the air around your home will become significantly less polluted. Why Artificial Grass is Environment-Friendly?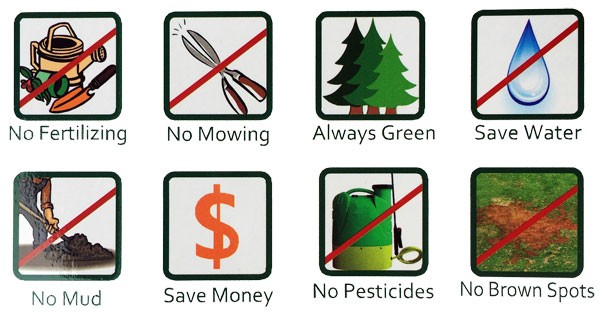 The Basic and Obvious Facts
No Watering. Water is a very precious resource for many places. The artificial lawn is also known as waterless grass because it is produced from plastic which is eco-friendly. There is less maintenance and there is no watering. As anyone with an organic grass front yard knows, keeping a healthy lawn means lots of watering. In many areas, though, there is a shortage of water, and artificial turf lawn is easily the top choice in alternatives to natural grass.
No Fertilizer. Not having to add any kind of fertilizer is the best part. Adding manures is a very hard job and is also told to be bad for the environment when it rains. Rain makes the fertilizers and it's bad particles travel into or close by waters like rivers, ponds etc' and this will eventually lead to them becoming contaminated.
No Pesticides: Pesticides target lawn and plant problems and, if used correctly, leave you with a lush green lawn. However, the traces of what's left in your yard after pesticide treatments make your lawn much less inviting than it may look. A lawn laced in pesticides is a danger to you, your family and your pets, and the environment. Artificial grass can avoid this problem perfectly. 
No Mowing. Studies done by the Environmental Protection Agency have shown that one hour of using your gas-powered lawnmower is equivalent to driving your car for a hundred miles. The best way to avoid this is through the use of artificial lawn, which not only cuts down on this pollution but also on the maintenance of your lawn in general.
Studies Proved: High-Quality Artificial Grass is Non-toxic
The potential presence of lead was a concern in the past days, but you do not need to worry about this these days if you choose the right product. With the high-quality artificial grass such as ARTURF artificial grass, you can be sure you're getting a product that is lead-free from as well as any other toxic ingredients.
Some people have also expressed concern about crumb rubber used as infill, especially for artificial turf sports fields. And again, researchers have studied this issue extensively. After 20 years of use and evaluation, experts now agree that crumb rubber does not pose a health threat to children or adults.