Infill is installed between the yarn, resting on the backing, usually only slightly visible, but it is a very important part of the artificial grass system. Proper infill quantity will ensure the performance of the product.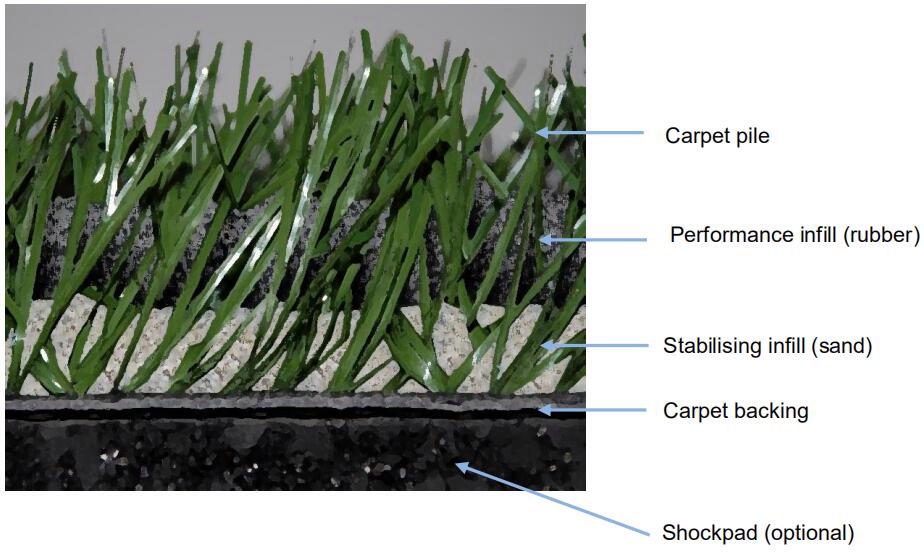 Soccer and Multi-purpose Fields
Silica sand and crumb rubber are two common infills for the soccer artificial grass field. Silica sand provides ballast and stability. It supports the system. Rubber granule offers a softer surface and gives bounce. Soccer artificial grass, silica sand, crumb rubber work together to ensure the performance.
When it comes to installing football artificial grass, one of the most important things you may concern is: how much sand and rubber should be infilled? In fact, there is no standard answer. We highly recommend to consult with your artificial grass supplier or check with a professional artificial grass installer.
However, for an artificial soccer field construction, at the stage of general cost estimation, you can calculate the cost of infills basing on our suggestions as following:

Experience and skills are need for football grass infilling. The improper infilling process can result in the materials floating on the surface. There is one exception that you do not need to worry about not having a professional artificial grass installer nearby – using our professional non-infill artificial grass.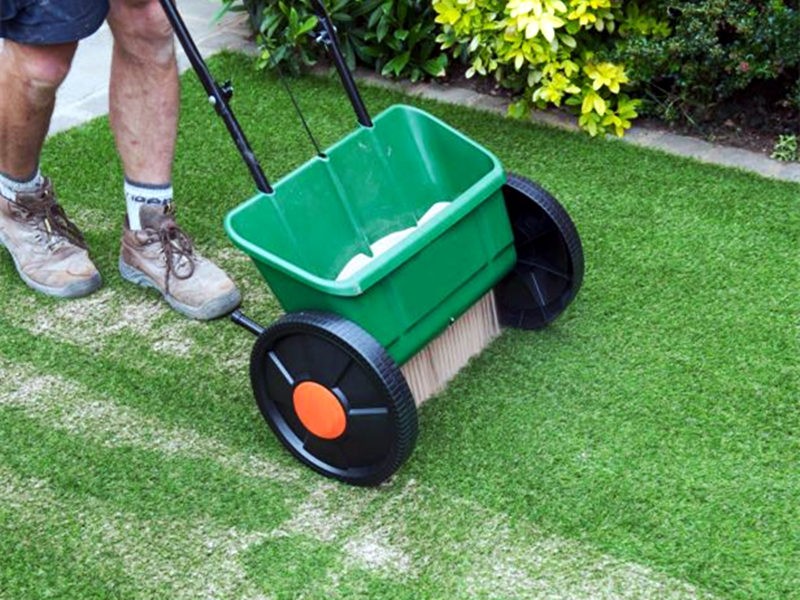 Landscaping Grass
Most of the landscape artificial grass is made with high-density fibers and thatch grass at the root. For this kind of grass, we just infill silica sand and normally no need to infill crumb rubber.
The quantity of sand infilling is important for landscape artificial grass installation. The artificial turf fiber will fall over and wear prematurely if too little sand. Too much sand and your artificial turf will appear sandy, and sometimes the sand can get tracked into the house by wet feet.
The number of kilograms per square meter will vary depending on the grass pile height and density. You can find 20mm – 50mm garden artificial grass on the market but 30-40mm are most commonly used. Generally speaking, We recommend using 8-15kg sand per square meter for 30-40mm landscape grass. A general rule of thumb is to use enough infill such that only the top ½" to ¾" of your grass is exposed.
The sand needs to be applied evenly into the artificial turf surface through a drop spreader. Once spread in place, the sand needs to be brushed in with a broom or a powered brush machine. Apply a thin (approx 5mm) layer onto the artificial turf fibers first. Once you've applied a layer, brush the turf fibers against the nap (grain) of the artificial turf forcing the turf fibers up and dropping the sand into the base of the artificial grass. Complete this process 3 times applying enough sand(about 15mm thick for 30-40mm landscaping grass).