Why use rubber infill for football fields?
An infill layer is used in order to improve playability on artificial grass. Infill provides grip, slide comfort, stability, and energy restoration.
The rubber infill allows the blades of synthetic grass to stand upright giving the grass a natural appearance.
Provide a cushioned surface to play similar to that of natural grass.
Make the artificial grass surfaces be capable of withstanding higher than normal stresses(Protect the artificial grass system and make it longer lives)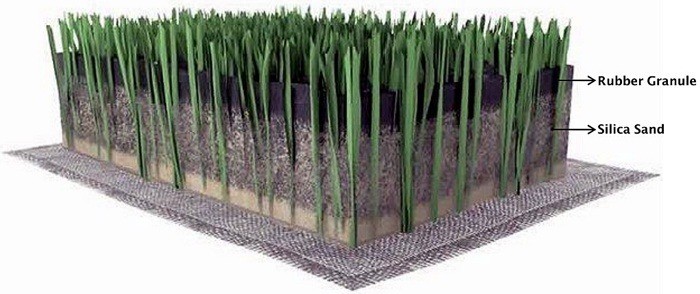 What kinds of rubber infill you can use for artificial grass sports pitches?
There are several kinds of crumb rubber you can use as infill, including SBR grubber granule, TPE rubber granule, EPDM rubber granule, and organic materials. We recommend SBR rubber granule or TPE crumb rubber. These two are the most common and proven high-performance rubber infill on the market.
1. SBR Crumb Rubber
SBR (after its chemical composition – styrene-butadiene rubber) crumb rubber is most commonly made of the recycled tire. The material was proven safe to be used as artificial grass infill. SBR rubber granule is the most common rubber infill on the market, with small investment characteristics of the output.
1-3mm size black crumb rubber to enhance the performance of sports fields. Good quality, clean, no bad smell and environment-friendly.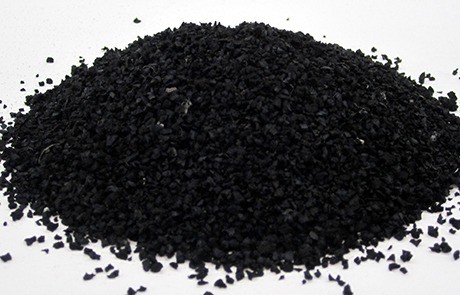 2. TPE Rubber Granule
Thermoplastic elastomer owns high resilience, strength and elastic resilience of rubber, and also has the characteristics of injection processing. It is a polymer rubber granule based on PU, PE, EPDM, SBS, SEBS, PP, PC, PA, ABS. Our TPE hollow granules are suitable as infill material for artificial turf.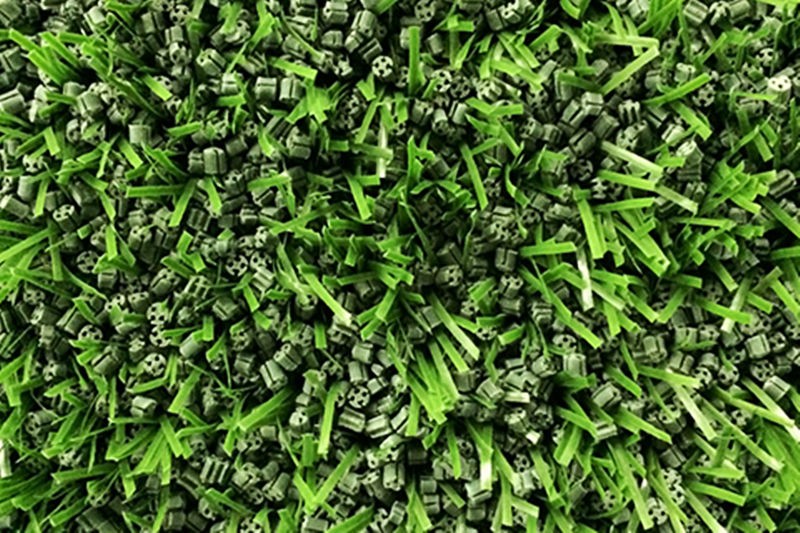 Is there any football grass that no need any infills?
Yes. If you want an even minimized maintenance and cleaner surface, you can choose our non-Infill football grass. It no needs silica sand and rubber infill. Ideal for 5-a-side, 4-a-side, 3-a-side or indoor football, and multi-purpose pitch.
Infilled or non-infill football grass, which one is better for me? Please click to learn more details.