We all know artificial turf requires little maintenance, but will it damage? Fortunately, it is not common. However, if something does happen to the surface, how to repair artificial turf? Can I repair my artificial turf by myself? The good news is that these damages can easily be repaired. Read on to learn how to address simple problems quickly and safely.
The greatest risk of damage is the lawn will split from the joint line, or related to heat, causing melting spots on the lawn.
1. The artificial grass surface splits from the joint line: Re-seam and fix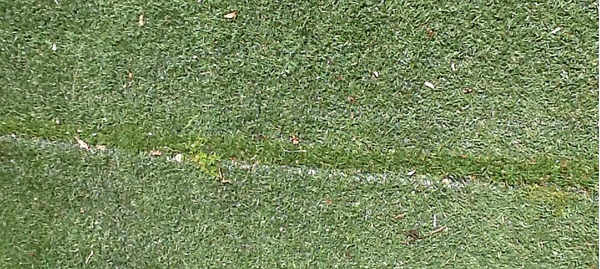 Sometimes artificial turf joint may split due to the shrink. Shrink means cold makes the lawn contract. Although we always select stable materials for the products, generally, all objects expand when heated and contract when cooled. In some places the temperatures between day and night are quite different, in this situation, shrink may cause gaps to appear. You need to use seaming tape and artificial grass glue to re-seam the artificial grass. Subsequently, we recommend you use U-pins to fix the lawn every 50cm, both horizontal direction and vertical direction.
2. Melting spots on the artificial lawn: Replace with a new piece
Any damage to artificial grass can be repaired. You can cut out the damaged piece of artificial turf and replace it with a new piece. Therefore we always advise customers to save the unwanted artificial grass pieces cut during the installation. These can be used for any repairs.
To avoid artificial grass melting as a result of sunlight reflecting on the window, click to read the article Sunlight Reflecting Results In Artificial Grass Melting
You must be aware of the fact that used artificial grass will look differently than new artificial turf, even when it is the same product. You can compare this with a normal carpet. A repair usually remains visible. Do not worry too much about this though as this difference disappear with time. Over time, this difference will be less and less visible.
Now you should understand repair artificial grass for landscape and garden projects is quite easy, but if it is a large sports field, you'd better ask the installer for help.
If you have more questions about how to repair artificial turf and maintenance, please feel free to contact us at support@arturf.com. One of our experienced colleagues will contact you.