Sport field lines can either be painted onto artificial grass surfaces or be inlaid. Inlaid, or 'cut in' lines are more permanent. The inlaid artificial grass lines reduce maintenance costs, so they are generally recommended for all the main pitch markings. Paint lines are used when temporary alternative lines are needed.
Inlaid Artificial Grass Line Marking
Normally we use white artificial grass lines for pitch line marking. The white artificial grass should have the same or similar specifications as the green turf used in the same project. Some other colored artificial grasses are also available sometimes, including yellow, blue, and red.
Note: Normally we just provide white artificial grass in smaller a roll. You need to cut it into lines when installing the turf. You will need Artificial Grass Glue and Joining Tape to install the lines.
An amazing tool Line Cutter is available to speed up the process of laying the white lines.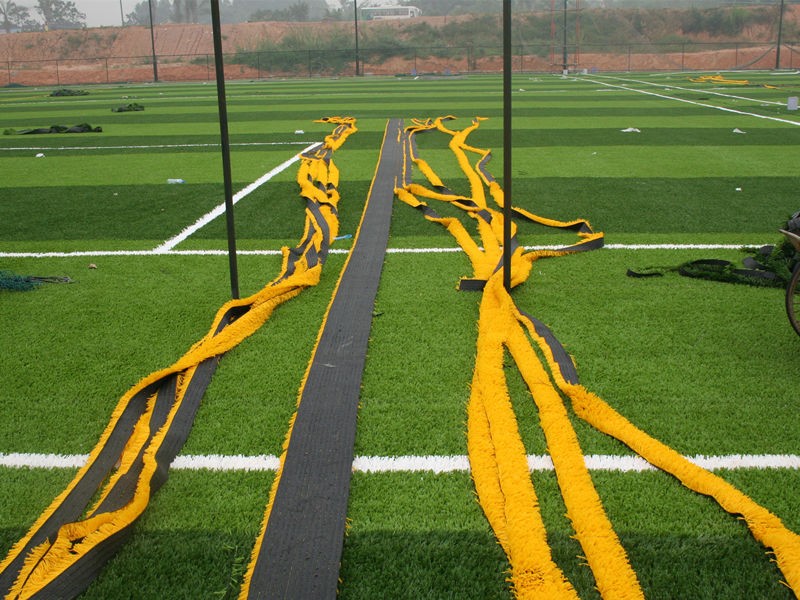 How many square meters of white artificial grass do you need for lines? The quantity varies for different sports and field sizes. The following table will give you some references for different sports. To avoid waste and shortage, we highly recommend you consult with the turf supplier installer basing on your project.
Sports Field Type
Field Size (m)
Marking Line Width(cm)
Total Turf Area Assumed (m²)
Qty of White Turf Needed (m²)
11-a-side football field
105 × 68
12
8000
100
7-a-side Football Field
50-80 × 35-50
10
4000
60
5-a-side Football Field
38-42 × 18-27
10
1500
30
Hockey Field
91.4 × 55
7.5
5000
60
Tennis Court
36.6 × 18.3
10 ( base line)
>660
18 (Calculated as 10cm)
5 (Others)
Advantages: It is a permanent line marking, no further maintenance cost.
Disadvantages: The lines are the weakest points on the artificial grass pitches. Potential cracking risk existed where the lines are cut in. Additionally, you may need to hire a professional installer to do the work.
Painted Lines on Artificial Grass
Using painted line marking on artificial grass is much faster and easier than inlaid lines. Choose the proper paint is important. The paint should be safe for players and the environment, and it should be rain resistant & hard wearing.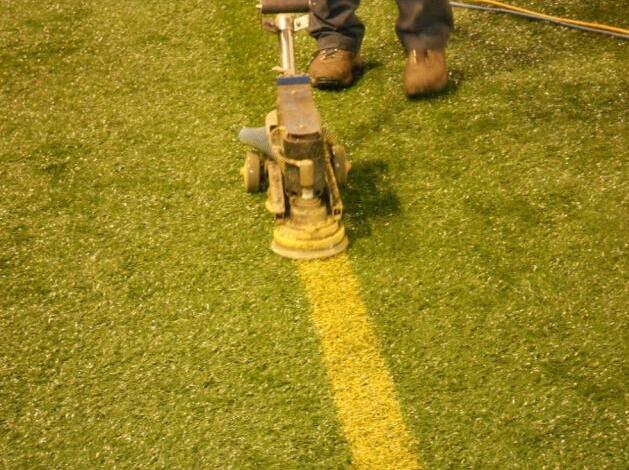 Advantages: No need to cut and embed artificial grass lines. Much easier for installation.
Disadvantages: The longevity of painted lines on artificial grass is difficult to quantify, as there are a number of variables that affect how the paint adheres to the grass. You need to re-paint the lines when the color fades.
Lines for Artificial Grass Multi-sport Pitch
For a multi-purpose artificial grass field that will host a number of sports, lines should be installed in different colors to denote each sport. The choice of colors is important, and as a rule of thumb the most frequently played sport should be marked out in white, the second most frequent in yellow, followed by blue and red. Below is a typical layout for an 11 v 11 football pitch also marked for small sided cross pitch play.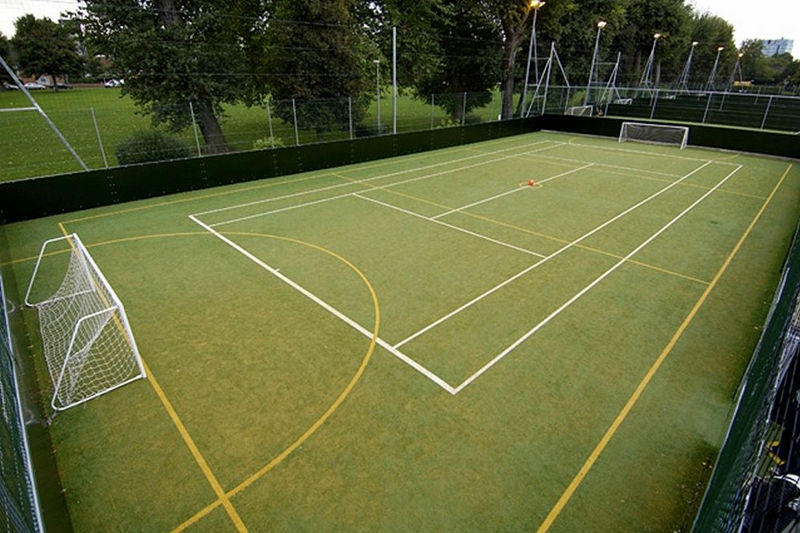 Colored Artificial Grass for Line Marking & Logo Mat
Further Reading: