EasyTape is a pressure sensitive self-adhesive tape designed for leisure areas. With the adhesive and tape already combined this is the easiest and quickest of the seaming options.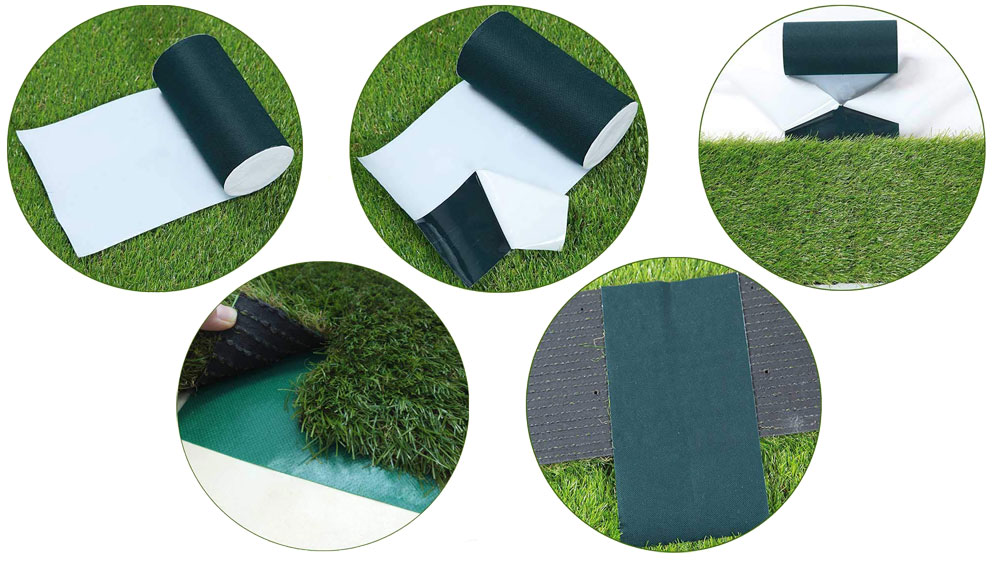 Application methods
Roll out the artificial grass in parallel strips so the edges are touching.
Bend the edges back and install the tape between the rolls where the seam will be folded, adhesive side up.
Fold the edges back onto tape. Ensure that the grass fibers do not touch the surface of the adhesive, press the seam firmly.
Leave them seams weighted with planks or similar for 24 hours before using surface.
Features of Self-adhesive Seaming Tape
 Easy To Use: The traditional way to join two pieces of artificial grass is to use adhesive/glue and seaming tape. Self-adhesive tape saves labor and time. You just need to remove the PE film and stick to the back of the synthetic grass runner to seam the turf.
Strong Adhesion: coated with top quality acrylic adhesive. With strong adhesion, anti-skid, waterproof characteristics.
Durable And Long Lasting: After seaming the artificial turf, the tape works for 6-8 years. Great properties of self adhesivity, no easy leaking in use, ensuring the long service time.
Multi-Purpose: Ideal for landscape applications such as a patio, floor decoration, garden, kindergarten, balcony, entryway, and pet dog area.